Commercial Shade Structures & Canopies
Staying protected just got a whole lot cooler. Come to A-OK Playgrounds for a full line of industry-leading, top-quality standard and custom shade structures that can protect nearly any outdoor recreation location. We're an outdoor recreation manufacturer offering everything from large, cantilever shade solutions to smaller canopy designs. Our shade structure and custom shade solutions provides wonderful sun protection.
Because of our commitment to enrich communities and protect people as they play, relax, and live, we offer a wide range of hip shades, crescents, cantilever shades, sail shades, umbrella shades, and canopies. All of these commercial shades are designed to deliver creative solutions and unique style, while also protecting you from the sun's harmful UV rays. These structures are gaining popularity to provide shade at the beach, pool, resort, patio, and even over a park bench or playground area.
Come to us for the shade canopy to cover your weekend picnic or the sail shade to protect kids on their outdoor playground. Use a cantilever structure to protect and cool cars from the harsh sunlight, or choose a triangle sail shade for a pool or aquatic center.
Our large catalog of outdoor shade canopies includes hip shades, shade sails, cantilever shades, modular shades, umbrellas, and custom shades - all to make sure you have the sun protection you need outdoors. Thanks to decades of experience in the industry, we are able to provide the superior shade structures which you've been searching for to include in your outdoor recreational environment. We've worked with clients from all types of facilities, including schools, parks, zoos, museums, landscape architects, restaurants, and hotel resorts.
Our designer-quality products are available in various shapes, sizes, and styles, so whatever your needs, we have the solution for you. Search through our catalog of shade solutions for your site to learn more! Looking for more inspiration? You're in luck! Get inspired using the inspirations link at the top of the page. Contact us today to get your project started!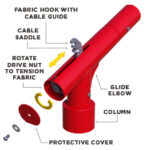 Markets
Park & Recreation
Playground
Pool & Aquatic
Parking & Car Wash
Sport & College Venue
Restaurant Dining
Zoo, Aquarium, & Museum
Hospitality
Housing & Communities

About Us
Superior Recreational Product's shade product line provides sun protection that benefits children, families, and even animals. We serve a variety of markets, including parks and recreation, housing, zoos and aquariums, sports complexes, and schools.
Our shade structures block up to 99% of UV rays that can damage playground equipment, motor vehicles, and building facades, not to mention your skin. That's why we put so much work into our products. Whether it's a custom shade sail or commercial umbrella, we care about shading our friends, families, and customers from the sun. Our shade products also create spaces where children, families, and neighbors can gather for picnics and enjoy quality time where memories are made!