This section doesn't currently include any content. Add content to this section using the sidebar.
We focus on development of low cost, high quality custom multicades and home arcades for your favorite video games.
We have setup strategic alliances with millworks, parts vendors and software companies to offer our customers the lowest cost custom multicades possible while still maintaining the quality and functionality required to produce an authentic arcade video game experience at home.
Our video arcades meet high quality standards, and each of our home arcades goes through a rigorous series of tests that take several days to complete.
We sell custom multi-game arcade systems. Our pre-built home arcade systems are ready to play and great fun for the entire family. Each multi-game arcade system includes our arcade game pack, which contains over 250 licensed video games.
*Each arcade includes 250+ games
*Easy to add more games via our Retro Reload site
*Just like you played as a kid
Some of our video game clients are:
Medical Offices
Doctor offices
Dentist Offices
Restaurants
Family Entertainment Centers (FEC)
Hotels
Churches
Corporate Businesses
Fitness Centers
Zoos
Museums
and many more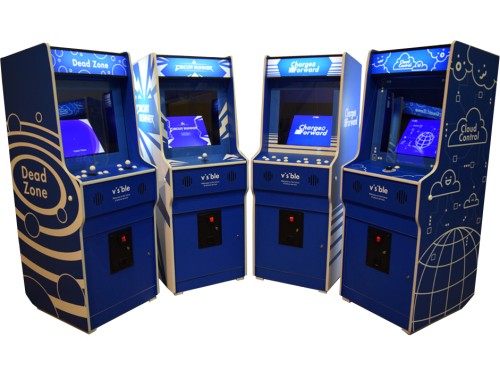 Every MAME arcade cabinet includes
all the following titles, plus you can add even more:
Atari® Game Pack
Asteroids®
Asteroids Deluxe®
Battlezone®
Black Widow™
Centipede®
Crystal Castles®
Gravitar®
Liberator™
Lunar Lander™
Major Havoc™
Millipede™
Missile Command®
Pong®
Red Baron™
Super Breakout®
Space Duel™
Tempest™
Warlords®
Midway® Game Pack
Spy Hunter®
Defender®
Defender II®
Gauntlet®
Joust®
Joust 2®
Paperboy®
Rampage®
Robotron 2084®
Smash TV®
Bubbles®
RoadBlasters®
Blaster®
Rampart
Sinistar®
SuperSprint®
Marble Madness®
720®
Toobin'®
SPLAT!®
Satan's Hollow®
Vindicators®
Root Beer Tapper®
Namco Museum® Pack
PAC-MAN®
MS. PAC-MAN®
Rally-X®
Xevious®
Mappy®
Digital Leisure Pack
Dragon's Lair®
Dragon's Lair II®
Space Ace®
- Plus many more!
Experience The Difference
Unlike other home arcade builders we are an arcade manufacturer. We do not build our home arcade systems one at a time in a shop. Dream Arcades® does not offer dozens of different color options, configurations or full customization services for our home arcades.
Our home arcade machines are built on an assembly line in large quantities. This saves hundreds of dollars on every table we build, which we pass directly to the consumer. This also allows us to focus on the quality and craftsmanship of our home arcades.
We realize that many of our customers may wish to customize their home arcades after purchase, which we have kept this in mind during the development and manufacturing process. Our MAME arcade cabinets are easy to open and dismantle, include custom programmable controllers and high-end computers that can easily be upgraded with new software or hardware.
0 products
Sorry, there are no products in this collection.